Perrin Aqua Découpe expertise
Active and intelligent support for new projects
To help its clients develop new products, PERRIN AQUA DECOUPE is firmly committed to:
Listening to clients' plans for new projects
Mobilising appropriate resources
Making relevant proposals
Related high added valued services
In our design department you will find the most appropriate skills and resources to help you with design, prototyping and development.
Stock integrated in your production line
Alert service for your supplies
Complete procurement order triggering service to determine supply needs.
Feasibility study sampling service for design offices and R&D
A global approach
We take a global approach from the outset, taking into account constraints related to suppliers, professional requirements and our clients' product-process needs.
Advice and assistance with part creation, upgrading or transformation projects.
Identification of needs and constraints.
Feasibility studies.
Drawing up of specifications.

Appropriate resources
PERRIN AQUA DECOUPE is aware of the needs of its environment and is able to offer its clients the best technologies thanks to its work on:
Research and development
Study and design of parts
Tests and validation in accordance with clients' specifications

Proactive proposals based on our experience
High pressure waterjet cutting technology opens up interesting horizons for innovation. It can often provide solutions for prototyping and industrial production problems relating to the making of parts, materials or bespoke machines.
We offer advice as part of a HIGH-PERFORMANCE GLOBAL SERVICE that guarantees that solutions can be found.
Our advice service consists of:
Helping you to achieve your functional and economic objectives for the product to be made.
Assisting you in the design phase to develop an optimum method of production.

Thanks to our experience in materials cutting and our in-depth knowledge of advanced materials, we are able to offer our services to:
determine the adequate type of material
specify dimensions
optimise our clients' objective production costs
propose optimum solutions for making parts
contribute our experience as a responsible partner with our clients during contract negotiations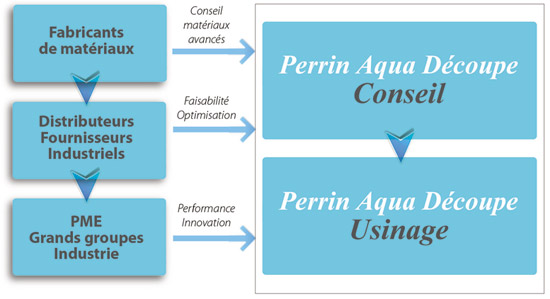 PERRIN AQUA DECOUPE intervenes upstream alongside the design offices and R&D departments of its partner clients in the realization of prototypes or tests of their new products by providing the advice necessary for success. We provide turnkey solutions for each technical challenge. Our customers will be served and satisfied whatever the technology (water jet or other technologies ....).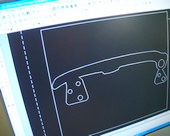 PERRIN AQUA DECOUPE works upstream with its partner-clients' design offices and R&D departments to produce prototypes or try their new products, providing the advice necessary to ensure success.
We can rely on:
very good knowledge of the sectors which can benefit from the added value offered by waterjet cutting,
expertise in advanced materials and their characteristics,
a network of partners specialised in complementary technologies.
We provide turnkey solutions for each technical challenge.
Our clients are served and satisfied whatever the technology (waterjet or other technologies ....).