Perrin Aqua Découpe is constantly taking up new technical challenges in the face of the rapid development of new materials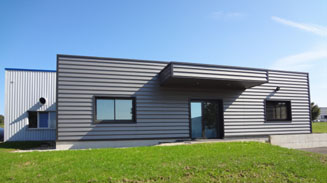 Based in Franche-Comté since 2000, Perrin Aqua Découpe specialises in cutting advanced materials using high pressure waterjet technology. This technique offers a particularly attractive alternative to traditional cutting methods.
Waterjet cutting can be used on numerous materials and provides highly effective solutions on very thick or exceptionally hard materials such as very hard ceramic composites.
The accuracy of waterjet cutting is such that it has infinite applications in prototyping and industrial conditions for short and medium production runs.
Waterjet cutting provides a high-performance response for advanced materials like composites, exotic steels, new metal alloys, …
Perrin Aqua Découpe stands out in its field thanks to the flexibility of its teams and their willingness to listen to clients' needs and respond quickly. Our knowledge of materials allows us to operate in highly diverse fields of application covering everything from mass produced industrial parts to single decorative pieces.
Our organisation offers free customised quotations. We also offer prototyping services to validate series production.
A committed team that listens to clients' needs with an open mind
A reactive SME, Perrin Aqua Découpe is able to offer its clients the benefit of its expertise in advanced materials and its different processing techniques (cutting, machining, …) thanks to its in-depth knowledge of its field in very different and often complex and fast-changing technical environments. Our team are all passionate about their jobs, highly qualified technicians who combine technical skill with ingenuity.
A tailored, upgradable environment
Perrin Aqua Découpe works in a modern environment. The company has considerable capacity with large-scale cutting units, which enable it to be highly reactive in production. Keenly aware of environmental issues, Perrin Aqua Découpe has directed its investments towards modern equipment which is economical in its electricity and water consumption, in particular the latest generation of high pressure generators.
This choice allows us to have:
Very high cutting power enabling us to work with very hard materials.
A capacity for extension to meet growing demand.